"… comfort and value you can feel good about …"
In its final year, Oldsmobile's Omega variant of GM's X-car received few changes. The grille now consisted of horizontal stripes with vertical park/signal lamps, and there were new bumper treatments.
The Omega's standard powertrain continued to be an LR8 "Iron Duke" 92 bhp 2.5 liter/151 ci inline four with electronic fuel injection paired with a four-speed manual transmission. Powertrain options included the LE2 112 bhp 2.8 liter/173 ci V6 ($250) and a three-speed automatic transmission ($425). Mileage with the 2.8 liter V6 and the automatic was 21 city/33 highway by the standards of the day (17/24 by today's standards). With a 14.6-gallon fuel tank, an Omega's owner could expect a range of between 270 and 350 miles with a 10% fuel reserve.
Standard equipment on the $7,832 (about $19,900 in 2019 dollars) Oldsmobile Omega sedan included front-wheel-drive, power front disc/rear drum brakes, P185/80R13 steel-belted radial tires (now a trailer size) on 13-inch wheels, deluxe wheel discs, custom bench seating, and a fold-down center armrest.
Moving up to the $8,104 Omega Brougham added a stand-up hood ornament, lower bodyside moldings, and a deluxe steering wheel.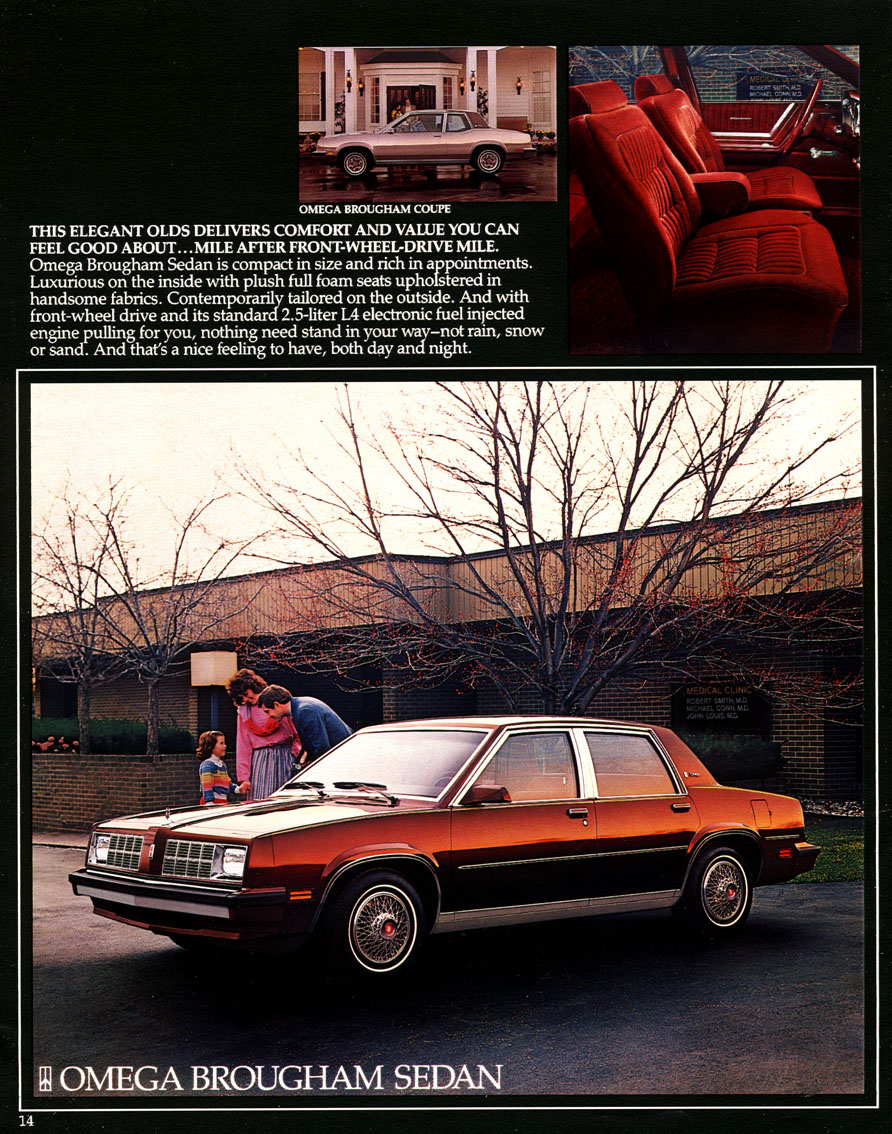 The $675 ES package (RPO W48) remained available in 1984 as an upgrade for the Brougham, but only 224 were ordered. By far the sportiest version of the Omega, the ES included a suspension with higher-rate front and rear springs, firmer front and rear shock absorbers, and thicker stabilizer bars. In an attempt to appear more European, the ES2500 was the version with the 2.5 liter inline four, while the ES2800 was the version with the 2.8 liter V6. Both versions got a blacked-out grille.
Exterior and mechanical options on all Omegas included a glass-panel sunroof ($300), power steering, and high-capacity cooling. Inside, cruise control, power windows, and a four-season air conditioner were available.
Omega sales were significant, but not great, and they had been dropping steadily from the 1981 peak of almost 148,000 (including over 101,000 sedans). Oldsmobile produced 41,874 Omega sedans in the 1984 model year—small potatoes compared to all the other Oldsmobile sedans available (Firenza, Cutlass Ciera, Cutlass Supreme, Delta 88 Royale, and Ninety-Eight Regency).
I haven't seen an Omega on the streets in well over a decade and they rarely show up in the Hemming's Motor News classifieds or eBay Motors. I'm also pretty sure I've never seen one shown, though I'm not betting against that happening at some point.
Other X-cars I have written about include the 1983 Buick Skylark T TYPE coupe, the 1980 Chevrolet Citation hatchback sedan, the 1981 Chevrolet Citation X-11 hatchback coupe, and the 1985 Chevrolet Citation II hatchback sedan. For some reason, I have yet to write about Pontiac's Phoenix.