This early (December 2013) blog entry was recently revised and extended enough to consider it a new entry.
"Low, sleek, ultra-competitive."
The 1983 Lotus Esprit Turbo finally brought the performance that the original Esprit's supercar looks had promised over half a decade before.
Horsepower was up to 205 bhp from the 140 bhp that had come with the debut of the Esprit in 1977. The engine was still the type-910 2.2 liter/131 ci inline four with a carburetor, but a Garrett AiResearch turbocharger making 8.0 psi of boost was attached along with an intercooler. Other engine technology included an aluminum block, aluminum heads, and four valves per cylinder.
Performance for the almost 3,000-pound exotic substantially improved with the turbo: a 0-60 time of about 6.5 seconds was about 1.5 seconds quicker than the original naturally aspirated car. The Esprit Turbo's top speed was about 140 mph. From the perspective of 2019, mileage wasn't so great for a small turbocharged four with a five-speed manual transmission; 14 city/25 highway by the standards of the day and 11/18 by today's standards. A 22.7-gallon gas tank helped with range, which was likely about 295 to 400 miles with a 10% fuel reserve.
The Esprit's looks were updated in the same way that many 1970s designs were as they headed into the 1980s. Ground effects were added to the original Giorgetto Giugiaro design, and of course there were huge Esprit Turbo logos on the rear quarters.
Standard exterior and mechanical equipment on the Esprit Turbo included a four-wheel independent suspension, rack and pinion steering, four-wheel disc brakes, and 195/60R15 front tires and 235/60R15 rear tires, all of them Goodyear NCT's riding on BBS 15-inch alloy wheels. Inside, air conditioning, power windows, and Connolly leather bucket seats were included.
A few years ago, Car and Driver reprinted their story on the Esprit Turbo from the November 1983 issue, and it is interesting and instructive to read—though it is notable that they put the Nissan/Datsun 300ZX Turbo on the cover that month instead of the Lotus. They believed that the car would find a hole in the exotic market even at a relatively dear price of $47,984 (about $122,000 in 2019 dollars).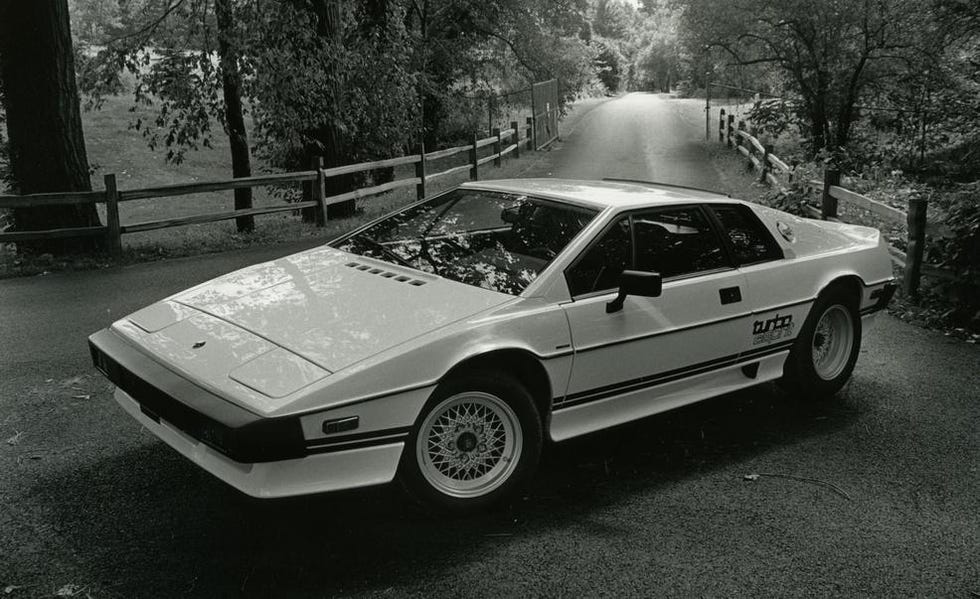 For reference, according to Hagerty's valuation tools, all the money for a 1983 Esprit Turbo in #1/Concours condition is currently $38,900, with a more normal #3/Good car going for $17,700. There is good club support for Esprits on LotusTalk and they regularly show up in the Hemming's Motor News classifieds—as I updated this blog entry in December 2019, there's a red 1986 Turbo with tan leather bucket seats and 17,000 miles available on Hemming's for $55,000.
Related articles